Posted by
Kevin Sharples
Sunday, 2018-02-11
An Exclusive Interview with Alexandr Misko - STAGE PASS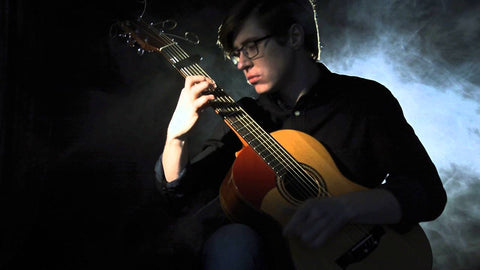 Alexandr Misko is self described "New-age experimental percussive fingerstyle Guitar player" from Russia.
At 19 years of age, Alexandr Misko quickly become one of the top percussive fingerstyle artists in the world.  When he is not attending university he continues to hone his craft everyday. Now at the age of 20, he continually delves into every genre of music to find new sounds and rhythms that inspire his original compositions. With over 15 million views on YouTube (and counting) Alexandr believes his success is derived from his sheer desire to deliver great music and videos in his own unique style that hopefully people will like and share.  With a true passion for writing original music, Alexandr is motivated to create songs that provoke emotions and vivid imagery for his listeners.  STAGE PASS was recently able to pry Alexandr away from writing his university exams to tell us more about himself. ............
So tell us, what age did you first start playing guitar? 
Alexandr: I started playing guitar at the age of 12. My parents presented me my first classical guitar on the New Year's Eve. Before that I was doing nothing and just playing videogames all day long. So now I'm 20 and I'm so glad that I gave up playing playstation back then ha-ha!


What first interested you in playing the guitar?

Alexandr: I have never asked anybody to buy me a guitar or any other musical instrument, but it was obvious that I have always shown interest in music since early childhood. I was really into American hip-hop and rap music of East & West coast! Moreover, I tried to find biographies and lyrics, and sometimes I used to record some of my raps on my phone along with my friend. We were mimicking American slang that we had been hearing on those songs and tried to come up with something similar to be cool. That was fun! I guess that at the age of 10-12 was the first spark.


Were you self taught or did you take lessons?

Alexandr: When I got my first guitar I decided to take private lessons with a tutor straight away. We were studying classical guitar for 3 years and to be honest I have never been an excellent student. But when I finally got acquainted with "fingerstyle", I completely abandoned my lessons and started to learn it on my own.
Your guitar playing covers a variety of styles including fingerstyle and tapping yet also incorporates rhythm. I don't think I've seen people use the tuning peg to make note adjustments while playing a song before.  What were your influences and how did you end up with the style that seems to be uniquely yours?

Alexandr: Basically everything that I can do now is a blend of other guitarists' styles combined. I know one thing for sure - I couldn't do anything decent without learning songs and gaining experience from such great composers as Don Ross, Mike Dawes, Jon Gomm, Pino Forastiere, Thomas Leeb, Preston Reed, Steve Reich and many others. They are all my heroes and have been inspiring me since then. 

But of course I get inspiration not only from other guitarists because it can make you sound exactly like your idol, and for sure you don't want to be someone's musical clone. That's why I'm always trying to find something new and interesting in other genres that can be really far away from guitar playing and to use it to make my own tunes unique.

For example, I'm fond of heavy genres like Deathcore, Prog metal, Doom Metal. Also I love minimalistic avant-garde music of 19th and 20th centuries, for example such composers as Steve Reich, Erik Satie, Philip Glass, Graham Fitkin, John Cage.  I still love American old school rap and write some lyrics in Russian…
Eventually I will be able to name at least one favorite artist in every existing genre of music. At least that's my goal :)


What do you personally call your style of guitar playing?

Alexandr: There are so many things in my style of playing so an appropriate name would be long and boring like "New-age experimental percussive fingerstyle", but it roughly describes only technical side of my music.

I try to write music, not a technique, so in terms of genre I would call it "Progressive Pop" because I'm trying to write melodic and accessible music with some progressive flavor that means the use of complicated structures, unusual time signatures, polyrhythms and other stuff.
Thank you Alexandr for taking the time to do this.
Please support Alexandr's Music
Subscribe:
YouTube Channel can be found  here
https://www.youtube.com/user/AlehandroMiskauskas
His Facebook Book Page can be found here
https://www.facebook.com/alexandrmisko/
Tweet